KNCS-2G
Over 70 years of history have given us not only the expertise required to design better products, but also the vision to be the first in line when it comes to new technologies and solutions. Whatever your workholding needs, read through to find what you're looking for.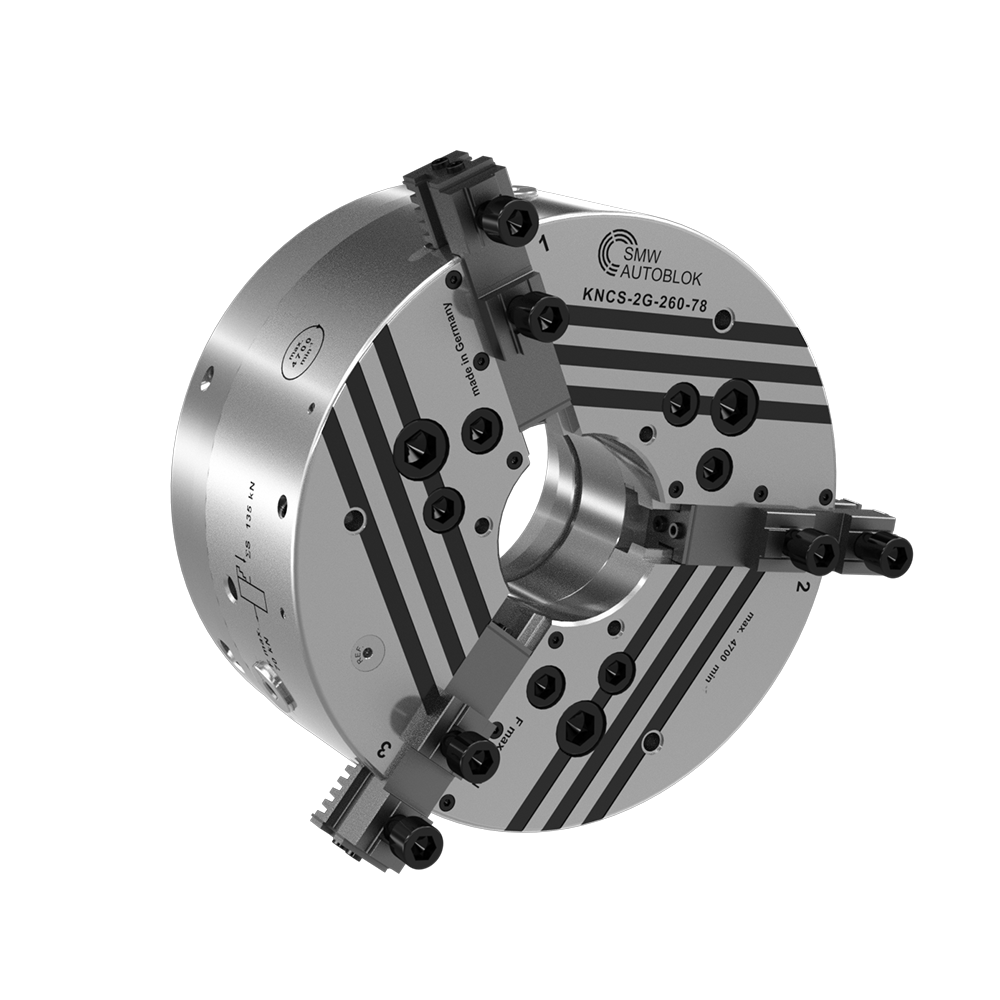 +
KNCS-2G
Quick jaw change power chucks
Seals in the chuck body and base jaws
Protection against dust and swarf
Optimized lubrication system
Constant clamping force
Minimum set up times
Maximum cost-efficiency
PRODUCT FEATURES
Minimum set up times
Maximum cost-efficiency
Fully sealed
Minimized set up times due to the quick jaw change system in less than 1 minute
Highest accuracy of the jaw change
Vertical mounting of chuck possible
Proofline® chucks = fully sealed – low maintenance
Large through hole
STANDARD EQUIPMENT
Chuck
Key
Mounting bolts
Mounting key (from Ø 210)
1 set hardened base jaws type GBK 1 set soft top jaws type WAK
1 set of coverplates
35 years after the invention of the world's best-selling quick jaw change KNCS chucks, SMW‑AUTOBLOK has managed to solve the main drawback of this type of spindle: contamination of the internal mechanism by chips, coolant and dirt. The new KNCS-2G sealed chuck allows a very high repeatability when changing jaws with excellent results both on horizontal lathes and on pick-up lathes. The hard turning operation of the gears takes place without the minimum internal contamination, in any working condition, on horizontal, vertical lathes and on pick-up lathes for castings and forgings. Total protection is guaranteed by additional seals placed on the wedge bar, on the both sides of the base jaws. The sealing and the new lubrication system make the KNCS-2G also suitable for mass production in all working conditions. KNCS-2G chucks are available on sizes 170 - 210 – 225 – 260 – 325 – 400 - 500 - 630.
HOW SMW‑AUTOBLOK SALES WORKS
All our sales people have engineering backgrounds as well as in-depth technical experience and knowledge thanks to our branches' technical offices. Our staff are spread throughout the world, able to offer the local knowledge and understanding that customers require and that helps us maintain our commitment to quality service always.